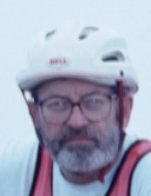 Very good cycling can be had on the Texas Gulf coast from the Louisiana border down to the Mexican border at Matamoras. The route takes one through three major tourist cities: Galvezton, Corpus Christi, and finally to Brownsville/South Padre Island, home of over 100,000 "Winter Texans" or "Snow Birds". It also takes you through many small sleepy coastal villages: High Island, Palacious, Rockport, Port Lavaca, Surfside, where sport fishermen, artists, birders and other varieties of malcontents and loners pursue their own interests. I met one fellow who claimed to be in the Federal Witness Protection Program (–running a bait shop under orders from the Feds??)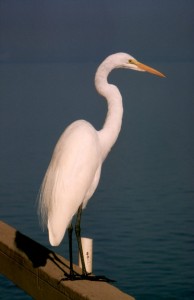 The coast is flush with over 340 species of migrating birds which are taking rest and food in the many swamps, wetlands, and wildlife refuges available to them. Enroute one cycles past eleven state parks (five with camping) and ten national wildlife refuges. Most of the route has been designated "The Great Texas Coastal Birding Trail" with over 95 pre-selected observation stations for bird-watching.
A historian will take interest in the many historical markers doting the bike trail, especially in the historically curious towns of Blessing, Indianola, Kingsville, home of the 825,000 acre King Ranch, Port Bolivar, and the always interesting border towns of Brownsville and Matamoros. Generally the markers tell tales of Spanish explorers, earlier settlers and their vast land grants, and the devastation brought on by the great storms in the late 1800's which blew away many proud and prosperous port cities and homesteads, shaping and reshaping the coast, pushing some people out, pulling others in to take their place.
Another element that gives the Texas Gulf Coast its definition is the bent-pipe array of petro-chemical plants, each a gleaming silver confusion in the marshy savannas, humming their low pitched grumbles and flaring off unwanted gases with clear blue flames in sky-high stacks. (Is it safe to breath here?…not really!) There are plastics factories that seem to run on auto pilot without a pickup truck in sight –or anything else to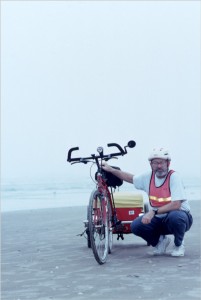 reassure the world of the human control that must be hidden there somewhere. And then there is the South Texas Project…a fearsome sprawling nuclear power plant whose name is a PR effort to help "Joe Public" forget the fear that comes with having so much potential disaster in his back yard…..to help "Joe Public" forget that the Texas A&M version of Homer Simpson sits at the controls of two huge nuclear reactors, –nodding off, feet propped up on emergency switches, crumbs of a cheap donut around his mouth, dreaming the happy dreams of someone who hopes to break 120 in the bowling league that night. Nothing to worry about….–it's a "project" ..not a nuclear plant. Riding a bicycle by the miles of its double wide barbed fence helps me recall in detail the movie China Syndrome, and my skin begins to feel extra tanned. In the tent that night I am puzzled by a neon blue glow emanating from my fleece garment, an anorak that looks like Casper. (Whoa!!!…..dropped off into "imagination world" for a few sentences…..As Homer would say……"Dope!!!").
The best logic leads one to believe that the tour of the Texas Gulf coast, should begin in the south and end in the north…that's the way the wind blows 95% of the time. Strong coastal winds generally flow off of the gulf at 10-25 MPH out of the warm south. Biking into that wind would be frustrating at best and make the cycling impossible at times.
There is something in my own personal gyroscope that always leads me to want to travel in a clockwise progression. I had always wanted to begin my tour at Sea Rim State Park…just a few miles out of Port Arthur on the Louisiana Border and finish in Brownsville —against the wind. It could also be asked that if you are traveling on a one-way trip how can you tell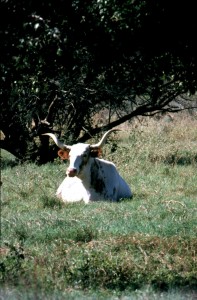 clockwise from counter-clockwise? To me it was more of a desire to begin in the relative wilderness of Sea Rim and finish in the Spring Break Party Town atmosphere of South Padre where I would be greeted as a cycling god by bikini clad vixens who would offer toasts to me in my hour of cycling glory (NOT!!—Had to settle for cold beer with the wife, the son and the in-laws….just as well!).
So…defying good sense and good advise… I took off going my own way, north to south, ….hoping for the best….counting on luck…..equipped with those strong personal qualities of mine that makes it easy for me to bale out at the first sign of trouble or hardship.
As luck would have it an unusual series of cold fronts pushed through Texas providing me with nearly constant tail winds of 10-20 mph out of the north.. And while 8 of the ten days of my tour were cloudy and sometimes rainy the favorable winds easily made up for the sunless days. The two sunny days I did have, the south winds limited my mileage to around 35 miles. While ice never did form on the bridges or roads I traveled, ice did form on the head and shoulders of my rain coat, though I didn't notice it until I stopped for coffee….just about every convenience store in ten counties. My favorite snack was hot coffee and taquitos served with fresh green chili sauce…the Tex Mex version of the breakfast burrito only a little more authentic..
My longest day was the day I crossed the famous King Ranch, 68.5 miles between motels and 50 miles between service stations, not that long in cycling circles. Constant tail winds pushed me past countless cattle, restless hawks hunting for prey flying among the higher mesquite trees. My only other company on that stretch was the vigilant border patrol officers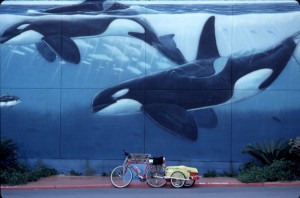 scouring the underbrush and cactus for their quota of the 30,000 illegal aliens they capture and return to Mexico each year. There isolated station in Sarita was a welcome and interesting break.
On this trip I used a Burley trailer, a gear hauler model, not the kid hauler. I found this alternative to be far superior to the use of bags hanging all over your bike…less weight on the wheels and frame….more stable. I carried a tent, bedroll, ground cloth, a bag full of winter clothes, cycle repair gear, and a bag full of camera gear….probably 40-50 pounds. The trailer will fit into my tent. If I decide to cycle away from my camp I can put the trailer inside and zip it in….making it less tempting to a casual thief. I will never go back to bags for touring. I never really felt that I was pulling any extra weight.
I use this bike trailer daily in the Woodlands for going up to the gym, grocery store, library, and mall. It's my station wagon. I recently added a very bright strobe light which is light enough to fit atop my safety flag…making me visible from a long way off. The winter days are short, and I planned to get off the road every day by around 3 p.m. –but being a morning person, I found I was always tempted to start out early in the morning…probably an hour before it was really light enough to be seen well. For this I carried quite an array of flashing red lights, and I wear a big orange safety vest and bright reflectors on each arm and leg. I had no close calls and came back alive.
Winter cycling in Texas has many advantages. It's cool. It's flat. The bird watching is at its prime. It's off-season and therefore inexpensive. Most small motels are empty and rooms can be had mostly in the $20-25 range. Camp grounds that might be full in summer are virtually empty…except those popular with Snowbird RV's. The locals are less stressed and more likely to be friendly and talkative. The route also has several interesting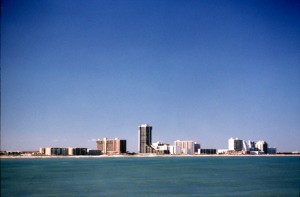 historic hotels where the rooms are inexpensive and the digs have a good story to tell, Hotel Blessing in Blessing, The Tarpon Inn in Port Aransas, the Galvez in Galvezton. And some hotels that are cheap and interesting but not for any historical reasons: The Surfside Motel in Surfside, and the only hotel in Tivoli, The Tivoli Motel –a notorious "wetback" hide out and punch-em-up barroom.
The roads of my route down the gulf Coast are mostly safe and lightly traveled outside of the rush hour traffic in the larger cities of Corpus and Brownsville. The major state highways, not federal highways, have wide smooth shoulders which are mostly clean and litter free. My only puncture resulted from riding over a thorny twig in the middle of the King Ranch on my longest day. While I could have chosen shorter routes they usually involve narrow roads with no shoulders. I had eliminated these routes on scouting trips last year. The state provides free ferries on the two places where bridges are impractical, on the eastern end of Galveston – from Port Bolivar and between Aransas Pass and Port Aransas. Doing ferries on a bike is always fun.
The most dangerous part of the route are the four bridges which do not make provision for walking or bicycling. These bridges are long and high usually to provide for the Gulf Intracoastal Waterway, (12 feet deep 125 feet wide and 426 miles long in Texas). In those cases one must hitch hike across –which is never too difficult given the number of pickup trucks in Texas. In the first crossing I asked the motel owner if he would drive me across in the morning –he agreed. It's not hard to hitch hike and pickup drivers seem to want to make themselves and their trucks useful. Many other smaller shorter bridges should be considered unsafe per se, except that with some patients to wait for an opening you can cross quickly and not be passed by cars. A "round-the-world biker" was hit recently on one such bridge in Port Aransas and has spent the last three months there recuperating. I can't think of a better place to hang out for three months.
One observation that I have made over the years of cycling is that about 3% of the drivers on the road are slightly skewed to the right in their vision perception. These are the people who always have the right side of their cars slightly scratched up from scraping into stuff. The biggest danger is that their right rearview mirror is going to come very close to a cyclist's left elbow. Man!… would that hurt!. They park not in the middle of a parking space but to the right side of a space. In my rearview mirror I can always see them coming…wheels just slightly over the edge of the main road –two or three feet more to the right side than the rest of the cars.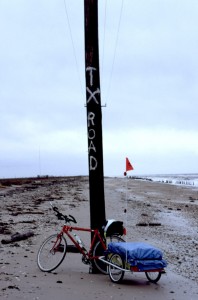 There are those also with front-end depth perception problems as well….but their numbers are less –because of early mortality I presume. I will get completely off the road for ANYTHING that looks even slightly dangerous.
Probably, the most unusual part of this route is that section of state highway 87 from Sea Rim State Park to the village of High Island. After many gulf storms had washed over this ten mile section, the state finally gave up on making repairs and just let the road disappear. This section of the route parallels the McFaddin National Wildlife Refuge and is not traveled by anyone other than a rugged band of birders, hunters, and fishermen –usually in four-wheeled -drive vehicles.. Naturally I was warned by every local authority that the road disappears. Even the rest room cleaning crew at Sea Rim warned me that I would be swallowed up in a black hole if I tried to cross that ten miles. I strongly agree with my favorite author Paul Theroux who says that a well prepared adventure traveler generally knows more about these kinds of things than some local character who cleans rest rooms at a state park –having never been there themselves. Dan Dinkler, manager of the MNWR also stopped me in his truck to give me some final discouragement. In face of all these dreadful warnings I decided to give it a try anyway. If you're gonna screw up it may as well be on the first day!!
It was a dreary day of cold drizzle. I peddled along on the hard beach sand next to the water's edge, weaving in and out of the wave line dodging shells and walking where the sand was too soft to hold my tires, maybe two miles on foot. Soon I was met by a couple of old coots (about my age) in a Jeep –who, rather than get out in the cold rain to hunt duck, were quite sensibly having a driving adventure in a warm Jeep with some cold beer. If they could drive it, I could bike it, walk it, wade it and I did.
When I got to the end of my trip I felt pretty depressed that it was over. This is a sign of a good trip. I wanted to keep biking on down into Mexico and keep on going. I am thinking of doing an annual winter bike trip in Texas. Maybe start next year at Brownsville and cycle over to Big Bend The 1998 Winter Texas Border Tour could be really interesting. All for Now.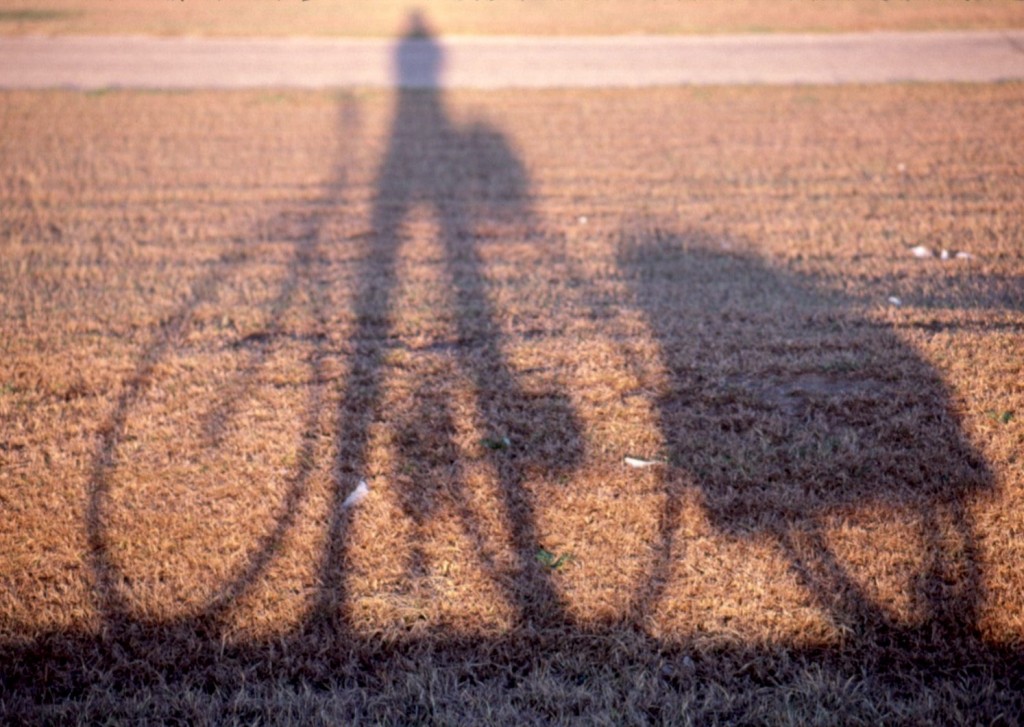 Date
Cities
Miles
1/7/97
Sabine Pass, Sea Rim State Park to Galveston
58.3
1/8/97
Galveston (city) to Surfside
40.2
1/9/97
Surfside to West Columbia
35
1/10/97
West Columbia to Blessing
41
1/11/97
Blessing to Tivoli
61.8
1/12/97
Tivoli to Port Aransas
53.1
1/13/97
Port Aransas to Corpus Christi
28.9
1/14/97
Corpus Christi to Kingsville
42.4
1/15/97
Kingsville to Raymondville
68.5
1/16/97
Raymondville to Brownsville/Matamoros (Mexico)
55.9
1/17/97
Brownsville to South Padre Island
24
Total
486