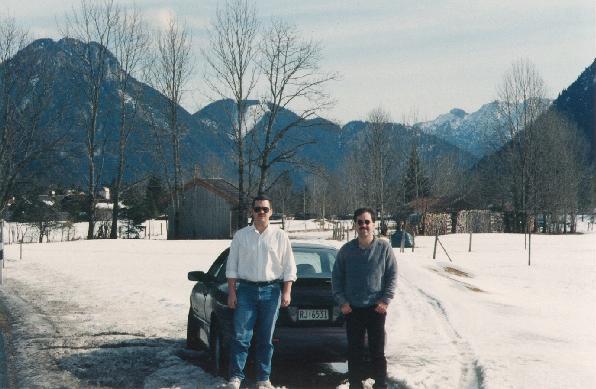 My friend Ed and I went to Germany, Luxemburg, and Austria during the second half of February 1997. (Most of our time was spent in Germany.) It was an excellent trip. We had a lot of fun, and have returned with a few stories.
While in Germany, we stayed with our friend Tony Scott and his family. Tony is a Senior Airman in the US Air Force, and is stationed at Ramstein Air Force Base. Tony took two weeks of leave and shuttled us around, showing us the sights.
Ed also shared his take on our trip.

Food & Culture
Our dining experiences were some of the most enjoyable times we had in Germany. We decided early in the trip to spend a while each day searching out The Place. We defined The Place as the most authentic, most German restaurant possible. This meant that most of the time we walked for an hour or two far outside places normally traveled by tourists, searching side alleys for an out-of-the-way, obscure little sign indicating an eating establishment. This was extremely effective, and we had some of the best food and service we have ever had. Even in Heidelberg, a completely touristy city, we found The Place. It was a tiny little place in the second story of a building halfway down an alley. Its name is The Schnitzelbank. All of the other customers were German. The service was good, and the food was awesome. Another time, we pulled off the Autobahn (highway) in the middle of nowhere. We drove several kilometers away from the Autobahn and found a little, tiny town. In that town we found a small bar/restaurant. Inside, there was a man serving drinks to his friends at the bar. It turned out that he was the bartender, the waiter, the cook, the busboy, and the owner all rolled into one. Even though he was completely alone, every time a glass was empty he was there asking us if we wanted another drink. Since this was deep in southern Germany, his dialect was thick enough that we had trouble understanding him, but we muddled through. The service was great and the food was very good. After dinner, the owner came back and asked us why we were in the area. He asked if we were working somewhere nearby. He just couldn't quite understand why three Americans would be sitting in his tiny restaurant in his tiny town!
In German restaurants, the most common meat is pork, followed by beef and sausages (many different types of sausages). They serve many meat and starch type meals. Most meals also come with a salad. Each restaurant has one type of salad dressing. So, unless you ask for a salad without dressing, you get the house dressing. What I find most interesting about their restaurants is their policy on how long you can stay at a table. They don't care. You can stay at your table all night if you want. If you break out cards after your meal and spend the next several hours playing, they won't come and throw you out. As a matter of fact, if you call ahead of time and reserve a table, they will not seat anyone at that table any time during the evening. It's your table! They feel so strongly about this, they will not bring your check until you specifically ask for it. The first time we went to a restaurant, we weren't sure how to ask for the check. So instead, we told the waitress that we were finished. She still didn't bring the check over. We then told her we were ready to pay and she got the hint.
While German food tastes very, very good, it tends to also be very bad for you. Many of their foods (such as schnitzel) is fried. In spite of the miles and miles of walking, I put on about four or five pounds during this trip!
The German culture is very interesting. Since I was only there for two weeks, I didn't get too immersed in it, but I did see some of it. The Germans in general seem very polite. Germans in service occupations even seem excessively polite sometimes. There are exceptions though. For example, if you are between a German and where he wants to go, he may just push you out of the way without saying anything at all. That seems to simply be acceptable behavior. Germans also seem a little more laid back. I think their off time (when they aren't working) is more important to them than to the average American. Their laws and rules and the way they do things also seem to follow common sense far more than the same things in America. In general, I'm impressed with the layouts of the towns and cities, and the few laws and rules I saw. Once again, though, I found exceptions. Although most of their signs regulating traffic make a great deal of sense, their signs directing traffic don't make any sense to me. Whenever you approach an Autobahn (highway), there will be signs indicating which on ramp goes in which direction. However, they do not use cardinal directions (north, south, east, west). Instead, they pick a town somewhere on the Autobahn and indicate that a particular ramp will put you on the Autobahn facing that town. I could understand this if they picked the next town, the last town, or the biggest town. However, they seem to pick a town at random. Sometimes it is the last town or the biggest town, but more often it is simply some town somewhere, maybe the fourth or seventh or ninth. It doesn't seem to follow any set pattern. This means that if you are traveling across Germany, you need to know each town on every route you follow. Plus, when an Autobahn reaches a city, it ends. Then, on the other side of the city it starts again. Navigating in Germany is very difficult.

Another thing I really like about Germany is that it is very clean. Everywhere you go, all the streets and buildings look very clean.
Heidelberg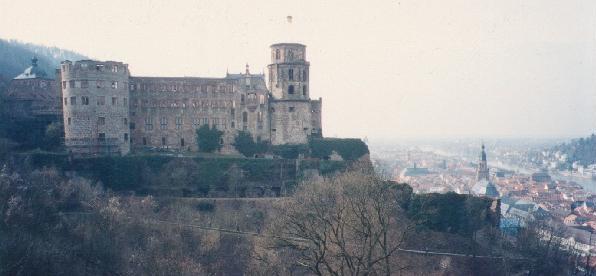 Heidelberg was pretty cool. The first thing we did, of course, was go see the castle. Impressive! The grounds and gardens were huge and beautiful. The view of the town and river were awesome. The castle itself was quite large and very beautiful. The architecture was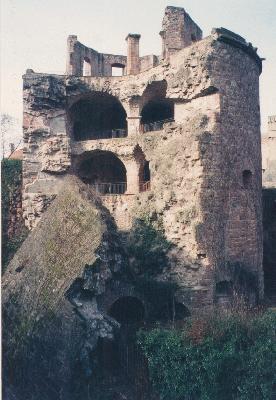 fascinating. For example, one of the wings is built such that each story is a little shorter than the story below it, and the statues on the outside of that story are similarly shorter than the statues below them. That causes your eyes to trick you into thinking the castle it taller than it really is!
While we were walking around the outside of the castle, we were talking about how hard it would be for an army to defeat the castle. We decided that it would be nearly impossible to attack from the front or sides. You would have to attack from uphill at the back of the castle. Then on the tour, the guide mentioned that the army that finally won against the castle had come from uphill, behind the castle, and no one had expect an attack from that angle. (We couldn't understand why no one expected that, but that's what he said.) We also spent much of the time trying to imagine what it would have been like to live back then. Imagine living down in that town with the castle looming over it. Almost anywhere you go in the town, you could see the castle. Or, imagine living in that castle, always looking down on the town.
Inside the castle, there is an Apothecary Museum that shows what doctor's tools and medicines looked like. Very interesting. If you go to the castle, check out this museum.

I have a lot of photos of, in, and from the castle.
Garmisch-Partenkirchen & The Alps

The reason we decided to go to Germany in February is that we wanted to try skiing in the Alps. So, while we were there, we made a trip down to the Garmisch-Partenkirchen area and stayed at the Von Steuben hotel in Partenkirchen. The trip from Ramstein AFB to Partenkirchen was rather interesting. One of our friends had warned us that all Autobahns end in München (Munich). Well, we found out he wasn't far off. There are several Autobahns that arrive at München, end and then start again on the other side. So, we ended up in the city itself on regular city roads. We got lost. We tried six different routes and all six times ended up passing the same Erotik Shop. Lovely. We finally stopped and bought a map. As soon as we did, we found our way back out of the city and onto the correct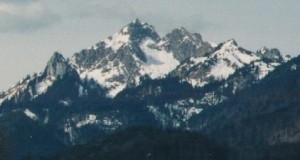 Autobahn. Unfortunately, since we left Ramstein later than expected, got lost in München, and then made a wrong turn near Garmish, it was quite late when we got to the hotel. We ate dinner at the hotel and were extremely disappointed. It was an American run restaurant, so most of the meals were just typical American food, and the service was really lousy. Tony and I both sent our steak back once. Ed sent his steak back three times and it still wasn't right. Finally the manager got involved and dealt with the situation very well. I do not hold any grudge against the hotel or restaurant, just that particular waiter and chef.
The next morning we woke up to a nice warm day. I walked outside in a T-shirt and got a strong feeling we wouldn't be skiing. We went to the bottom of the slopes anyway and discovered that the slopes were covered in thick clouds with strong winds. There was almost no snow and the trails were covered with ice. There was no way we were going to ski that! I was also surprised by the ski area itself. The trails are very short. Most of the trails are serviced by T-bars, very few have chair lifts, and only a couple have gondolas. Plus, there were very few trails. I think if I try skiing in the Alps again, I will have to try Switzerland.
Instead of skiing, we decided to drive around in the Alps. That was fun. We saw lots of incredible scenery! Then we walked around Partenkirchen for a while. It was very touristy and not really my cup of tea. Eventually we decided to start searching for The Place. We found it well away from the normal tourist areas. It was a little family run place. The service was very, very good. The food was also very good. Then, we went back to the hotel and hung around the bar playing cards.
We decided to cut our stay in Partenkirchen short and head for Neuschwanstein the next day.

I have many photos of the Alps.
Neuschwanstein & Austria
We drove through part of Austria on the way to Neuschwanstein Castle. It was very beautiful, but we didn't stop, so I don't have any good stories or photos from Austria.
Neuschwanstein is the castle that Walt Disney used as a model for Sleeping Beauty's castle. It is very impressive, very beautiful, and was still a big disappointment. I am very glad we went and saw it, but I won't be back.
The day we went was far outside the usual tourist season, and it was raining. It turns out we were very fortunate on both counts. After a 20-30 minute walk up the hill, we arrived at the ticket booth. In order to get to the ticket booth you first have to walk through a very, very long line. Since it was raining and in February, there wasn't anyone waiting in that line. But, I'm sure in the summer that line must take hours to get through. Then we went to the castle. It turns out, you can't go into the castle without the tour guide. Plus, in order to get to where the tour starts, you have to walk through the guest shop. Then, we found out that you can't take photographs inside the castle. The castle was built in the second half of the nineteenth century, so everything has copyrights assigned. In order to have photographs of the inside of the castle, you have to buy them at the gift shop. We eventually reached the place where the tour starts and had to wait in another line. Even though it was the off season and raining, there was still a fairly long line. Finally, the tour started.

Only 17 rooms in the castle are finished. The other 60 or so are just bare concrete and brick. The 17 rooms that are finished are exquisite. All have huge murals. All have incredible woodworking. It took 14 master craftsmen 4 years for the king's bedroom alone! All in all, it is very beautiful, and worth seeing once during the off season, but still a disappointment. It was way too touristy.
Luxembourg & Trier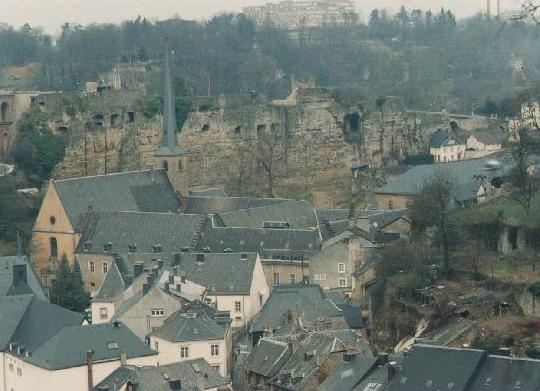 Luxembourg was very interesting. There is a huge gorge in the middle. On one side of the gorge, it is pretty run down and dingy and has strip bars and sex shops on every corner. On the other side of the gorge are high class shopping areas. But, the gorge itself is the most interesting part. It is filled with architecture spanning many centuries. It has numerous tunnels, bridges, stairways, and streets. Some of the buildings are freestanding, some are built right into the rock. Some are very, very old. Some are brand new. I spent quite a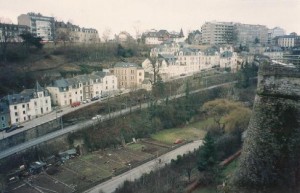 while just standing on an overhang looking at all the different views.
The same day, we drove to Trier in Germany. Like all other German cities I've seen, it is very clean, has a nice walkplatz, and has some interesting sculptures and fountains.
I have several photos of Luxembourg.
Landstuhle Castle
I did not talk about Landstuhle Castle because we didn't get to see much there. However, I do have a few photos of the outside.