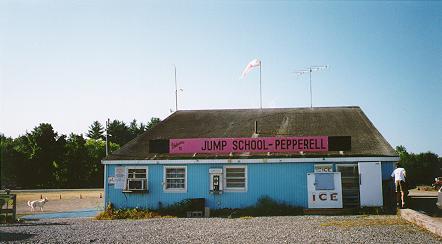 I learned to dive at the Pepperell Jump School. So, I can tell you exactly how much it cost there as of October of 1995 (check out their site for current prices). However, prices will vary from DZ to DZ. One fortunate thing is that once you know how to dive, the prices drop dramatically. For example, at Pepperell, I was charged (once I graduated the AFF course) $5 + $1 for every thousand feet. So, if I jumped from 13,500 feet it cost me $18.50. You should check with your local jump school or drop zone. Most DZs will allow you to rent equipment for a small price. For rental equipment, Pepperell charged $5 per jump plus a $5 repacking fee (as of Oct 95).
Tandem Skydiving (at Pepperell in 2012)
Individual $235
Group discounts (per jumper)
Groups of 5-9 $225
Groups 10-14 $215
Groups of 15-19 $205
Groups of 20-24 $195
Groups of 25-29 $185
Groups of 30+ $175
Tandem Skydiving (at Pepperell in 1995)
$185 includes equipment rental, plane fare, ground training, and an instructor to jump with.
AFF course (at Pepperell in 1995)
All of these prices include, equipment rental, plane fare, and an instructor on the ground to talk you in (via radio) once your parachute opens.
Level I – $300 – also includes a full day of ground school, two jumpmasters to jump with you, a tee-shirt, a bumper sticker, and a certificate. (I'm not sure, but a redo (if you don't pass the level) is probably around $160.)
Level II – $200 – also includes two jumpmasters and a membership in the U.S. Parachute Association (USPA). (A redo is probably about $160.)
Level III – $160 – also includes two jumpmasters
Levels IV through VII – $140 each – also includes one jumpmaster per jump
Videos and Photographs (at Pepperell in 1995)
If you want to have a cameraman jump with you and videotape your jump it costs $60. If you are getting video done, you can also get photographs for $15. They do not develop the film. They just take the pictures, give you an undeveloped roll of film, and then you get it developed and printed wherever and however you want.
My total cost (at Pepperell in 1995)
The AFF course cost me:
$1,660 – for ten jumps, ground school, and USPA membership
$120 – for two videos (first and seventh jumps)
$15 – for photographs of my first jump
For a total of $1,795. It was well worth it! I would pay many times this for anything that could rival skydiving!!!
To find out more about the Pepperell Jump School or DZ, call 1 800-SKY-JUMP.